HIP Inc presents
Raw: Valentine's is Black Light
The Punany Poets invite you to Fall in Love Again on Valentine's Sunday during our Romantic Comedy & Exotic Dance Show in Atlanta. The Head Doctor has made some new friends, and she has invited them to come out and play inside her little black box. This full-bodied, energetically immersive, Punany experience is set to a baby-making soundtrack brought to life on stage by our sexy Pearls. Raw is for adults only, created by Jessica Holter to create a sexually fluid, interactive ensemble of poet and patron, sight and sound, dancer and voyeur.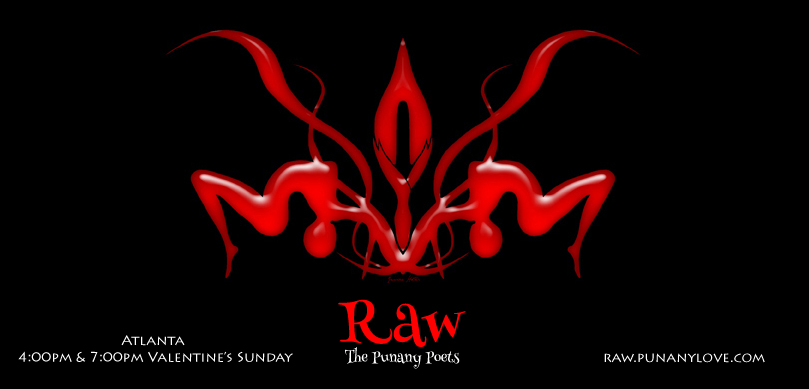 You will enjoy this delightful afternoon show featuring new and familiar Punany Players, coming together to put Punany in Rainbow Light at 7pm at 7 Stages. Adult Content; some nudity adults only. Jessica Holter hosts with special guests, Ol' Skool, Chanell Angeli, Classic, Kalada, Eboni Amore, Annette Coquette & Bryan "Chibi" Gaynor.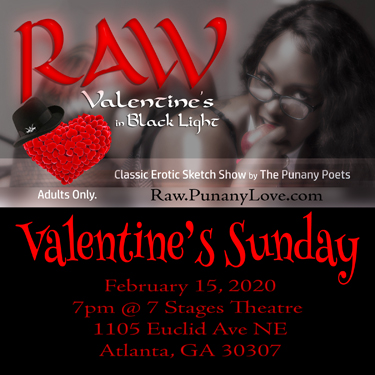 25 SOUNDTRACK
This delicious blend of poetic tales is laid to a baby-making soundtrack that will have you sliding off your seat.  Producer, Dwayne Wiggins of Tony Toni Tone'! brings a musical Oakland grit to this funky affair. The time-honored Punany scores by Lev Berlak evoke familiar moments in the 25-year history we have come to celebrate. Ol Skool Entertainment pours southern comfort on the musical compilation, you will want to take home, to score an encore performance of your own.  
* As seen on HBO. Erotic Sketch & Comedy Theater. Adults Only.

* 25: The Punany Poets Silver Anniversary Tour
* This Valentine's Season show is for all adults who are 21 and over. All donations and contributions benefit HIP Inc., and support the careers and goals of the artists you are watching.
* Parking is available nearby.
* Cash Bar / Coffee Java Lords.
SPONSOR - ATL BUS COMPANY